Michigan Real Property Law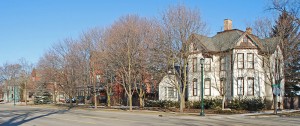 Andrew Jameson, Photographer: Creative Commons License.
"Real Property" is an umbrella term that covers a wide-variety of legal issues. This firm mostly works on issues related to real-estate, i.e., houses, land, buildings, leases, etc. We have a growing civil litigation practice and we offer clients a variety of services related to real-estate law, including:
Landlord/Tenant Litigation:
Commercial and residential leases are subject to a variety of local regulations and state laws. In particular, residential tenants are protected by additional laws and regulations which are fairly comprehensive.
In Michigan, we have an accelerated process called the Summary Proceedings Act which allows Landlords to move their cases along through the court-system in a quicker manner when they are seeking to evict a tenant. Self-help, i.e., a landlord changing the locks on a tenant to force them to move out, is strongly discouraged. Instead, the Legislature created a special procedure called the Summary Proceedings Act, MCL 600.5701 et. al. to allow parties an opportunity to resolve disputes, exclusively in the local district/municipal courts, see MCL 600.5704, over leases. This act also provides District Judges with the authority to provide relief which, outside of this act, they may not be able to provide. For both landlords and tenants, it is helpful to have an attorney who understands the local rules and regulations as well as the state laws. We offer assistance with:
Evictions
Anti-lockout Violations
Security Deposit Disputes
Money Judgments
Representation of both Landlords and Tenants
Section 8 Housing Benefits
Mobile/Modular Home Issues
Commercial and Residential Leases/Litigation
For more information on the Summary Proceeding Act, please visit our page. For more information on leases, please visit our page on this issue.
Transactional Services:
A vast majority of real-estate transactions do not require litigation. However, the process of completing these transactions may be very complicated with large amounts of money involved and high potential risks. As anyone who ever applied for a mortgage can attest to, there is a lot of paperwork involved for even simpler transactions. There is often a lot of issues that need to be resolved prior to and in order to complete a transaction. It is often helpful to have an attorney review the paperwork or assist with drafting certain key documents. This firm offers a variety of services with these issues:
Land Contracts
Purchase/Sale Agreements
Contract Drafting
Easements
Document Drafting (Deeds, easements, etc.)
Document Review
Closings
Foreclosures
Defense against Foreclosures
Negotiations with Lenders
Short-Sales
Title Reviews
Real-Estate Litigation, Statewide:
Given the inherent complexities with these types of transactions, occasionally things do not work out. Litigation may ultimately be necessary. Occasionally, the alleged conduct may be so severe, criminal charges may be filed.
This is often an issue if, for example, an unlicensed contractor is working on a project that they are not legally permitted to do or there are allegations of builder's trust fund act violations, see MCL 570.152 et. al. There are multiple courts and multiple levels of government involved with many of these types of transactions, and certain situations could involve a variety of different courts, parties, and governmental agencies.
For example, an alleged Builder's Trust Act violation could result in criminal charges for the alleged violator filed by a county prosecutor, a license revocation administrative hearing being pursued by Attorney General's Office, and a civil lawsuit filed the aggrieved party involved with the original construction contract. Three different courts and/or court dockets, three separate legal procedures, three different parties, three potentially different sanctions, all because of the same alleged facts.
At this firm, we assist our clients with issues, among other things, involving:
Mechanic's Liens
Boundary Disputes
Quiet Title Actions
Contract Disputes
Builder's Trust Litigation, in both the Criminal and Civil Courts
Licensing Issues/Litigation, in the criminal, civil, and administrative courts,
Property Management Disputes
Nuisance Litigation
Mobile/Modular Home Issues
Farming Issues
For more information on construction litigation, please review this page.
We assist a variety of different clients, ranging from large corporate landlords to individual home-owners. Let our experienced attorneys assist you with your real-estate needs. For a free initial consultation, please call (517) 507-5077.