How do I file a small estate?
In Michigan, if a person passes away and the value of their estate is under the statutory limit, Michigan law (MCL 700.3982)($22,000.00 as of 2014) allows the estate to be opened in an expedited system commonly referred to as a small estate proceedings. There are many good reasons for you to choose this procedure if you qualify including. The cost for filing is only $25.00 vs. $150.00 for a traditional estate, you are not required to appointment a personal representative, and these matters quickly result in a court order assigning assets much faster than standard probate.  If the estate you want to file qualifies you should seriously consider this procedure.
There are several requirements if you would like to file under this system:
* You must fill out a Petition and Order for Assignment. Again, there is a $25 filing fee, a $12 certified copy fee for a certified copy of the order. You will also have to pay an inventor fee which is based upon value of the estate.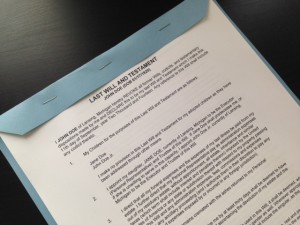 * The decedent must have been an of the County where you file or if they were not a Michigan resident they must have left property in that county.
* The total value of the estate, subtracting any funeral and burial expenses which are either unpaid or were paid by someone other than the decedent after the decedent's death, is under a maximum amount dictated by state statute. [For someone passing away in 2014, the maximum estate value is $22,000 or less 2015 figures will be posted as soon as updated.]
*  All assets will first be directed to pay for funeral expenses, however, if someone paid some or all of the funeral or burial expenses for the decedent assets will be used to repay them first.
* Finally, a description and value must be given of all property within the decedent's estate.  Any liens, encumbrances, or mortgages on real estate can be used to reduce the property's value listed on the form.
If you need specific legal advice for your particular circumstances, we encourage you to privately consult with a lawyer. Our office frequently handles this types of matters. For a free initial consultation, please contact us at (517) 507-5077.