Take the high road and be prepared.
It is often asked of this office "what do I do to prepare for my divorce?" and my answer is ALWAYS "Take the high road and be prepared."  This means that I do not want you, the client, to empty the marital accounts, I do not want you to hide assets, or to move out in the middle of the night with all the furniture.
What I want, is for you to make sure that you have adequate finances available for a month or so if needed, have access to copies of birth certificates, copies of taxes and bank statements, copies to automobile titles and deeds.
I also want you to keep copies of emails and texts between parties if they are violent or threatening.  I want you to love your children, and to spend as much time as possible with your children, WITHOUT bad-mouthing your partner.
Divorce does NOT have to involve tearing down the other side in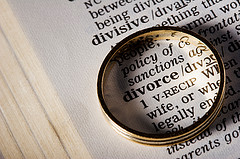 order to bolster YOUR argument for why you should receive something more than them in the divorce. The Court will be watching and your children will be watching too.
If you need specific legal advice for your particular circumstances, we encourage you to privately consult with a lawyer. Our office frequently handles this types of matters. For a free initial consultation, please contact us at (517) 507-5077.
For information on Michigan divorces, click here.
For information on the differences between marital property and separate property, click here.